Lift Your Sights with a Night at Baker & Able
Huntsville is continuously growing. It is known as one of the best cities in the country as the citizens literally and figuratively reach for the stars. As the city develops into a bustling metropolis (still with small town charm), new restaurants and bars are popping everywhere.
For those who want to experience the nightlife and have an elevated evening, we recommend visiting the rooftop bar Baker & Able. In honor of the city's astral history and roots, the Baker & Able name commemorates the first two monkeys who successfully completed their space mission. Now years passed, Baker is actually buried at the United States Space & Rocket Center here in Huntsville, but both the Baker and Able names create a feeling of adventure that is long lasting. As you admire the evening sky and take in city views atop new 106 Jefferson Hotel, you will undoubtedly enjoy your time with friends - and a cocktail or two!
Cocktails and Small Bites
As you take in the night sky in Huntsville, enjoy one of the delicious, crafted cocktails that Baker & Able's skilled bartenders have to offer. For those who like a drink that is tart and bubbly, a French 75 or Spanish Rose will certainly tantalize your taste buds. However, if you appreciate a cocktail that offers more earthy notes, then a Paper Plane or a Perfect Manhattan will hit the spot.
Of course, if a glass of wine is your favorite beverage, then Baker & Able provides customers with a generous list of reds and whites. The venue also offers a wide selection of imported, domestic, classic, and craft beers.
While Baker & Able is first and foremost a cocktail bar, the venue does offer patrons appetizers and light bites. Nibble on a Pretzel Board with your date or snack on some popcorn, olives, or Spanish-style meatballs with your friends.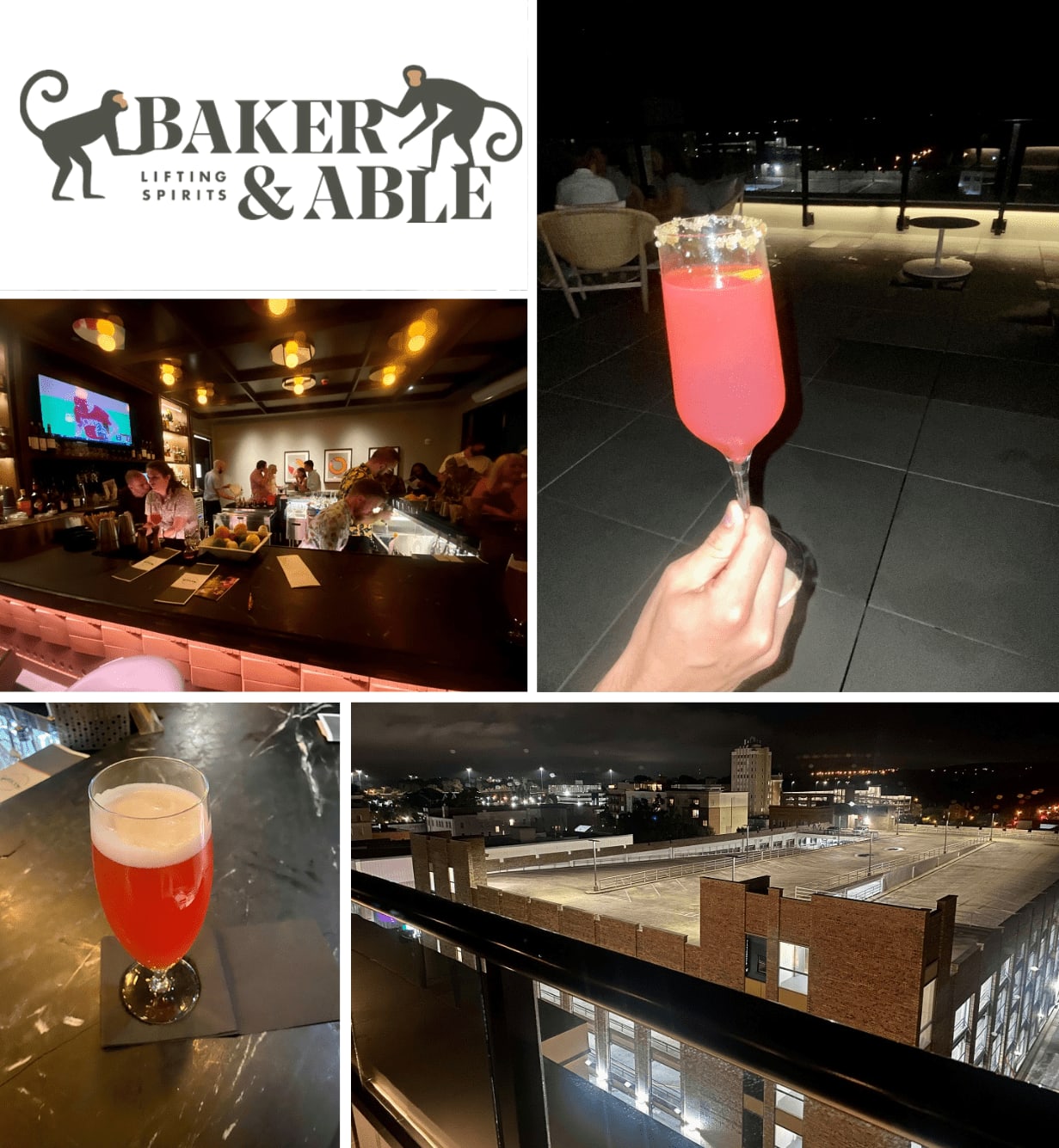 Enjoy a Night Out at Baker & Able
Whether it's a girls' night out, date night, or just spending time with friends, Baker & Able is the perfect location to celebrate and come together. Conveniently located in the center of downtown Huntsville atop the 106 Jefferson Hotel, the chic rooftop bar is a great place to enjoy a drink, chat with a friend, and enjoy the view. Open Tuesday through Saturday nights, come take the time to enjoy the Rocket City at Baker & Able.